Are you looking for the best IDPLR alternatives?
You're on the right page. 
What is the best PLR membership site is the most frequently asked question by people looking for PLR products today.
Fortunately, multiple websites out there sell PLR products with resell and private label rights.
However, if I were asked to provide a list of similar websites like idplr.com, I would still mention IDPLR.
Why?
…because the website offers tens of thousands of PLR products in multiple niches.
Top IDLPR Alternative
Granted, IDplr.com is the best. However, there are other PLR content providers out there with incredible PLR products as well.
And in this article, I'm going to share with you the best 7 IDPLR alternatives so you can choose the best one for your online business.
So without much ado, let's get started.
1. PLR.me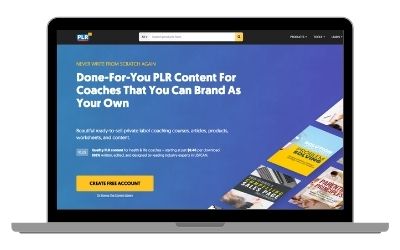 If you're looking for ready-to-use private label rights products for your health and life coaching business then PLR.me is the best PLR membership site.
The membership site is renowned for its high-quality PLR coaching programs, courses, ebooks, reports, products, and presentations that are ready for use outside the box.
In fact, PLR.me was featured in popular magazines and publications like 100 Huntley Street, Entrepreneur, and many others for its unmatched PLR products.
What's more, the membership website offers PLR content that's created by industry experts from the USA and Canada.
The site was launched in 2008 and is currently popular among online entrepreneurs and internet marketers who use more than 14,539 PLR products it offers.
The website caters to the needs of users who want to buy single products (you don't need to buy a membership to download 1 or 2 products there) and those who want to purchase in bulk.
Top Features of PLR.me
Over 14,539 ready-to-use PLR products including coaching resources, reports, eBooks, presentations, etc.

The Ultimate 2020 Content Marketing & Social Media Calendar to help you know when to create and publish your social media posts for better results.

Free useful tutorial videos to show you how to use the done-for-you content to drive more traffic, acquire clients, and create coaching courses, webinars, emails, etc. by yourself.

Interesting customer stories and eye-opening case studies.

Exclusive access to members-only content marketing software like content summarizer, perfect email formatter, etc.
PLR.me Pricing
PLR.me offers the following premium plans:
Pay-as-you-go $22 one-time.

100 Monthly Plan $99/mo.

400 Annual Plan $379/yr.

800 Annual Plan $579/yr.

2500 Annual Plan $990/yr.
Note that to use PLR.me products, you're required to pay in credits, not in direct cash.
2. Resell Rights Weekly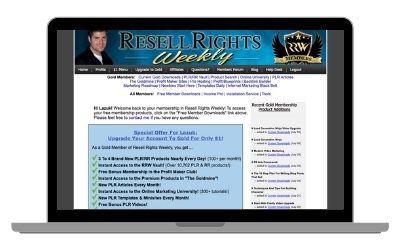 Resell Rights Weekly isn't just a PLR membership website but is also a community of people with interest in making money online using PLR products.
Whether you're a beginner blogger, affiliate marketer, or internet marketer, you can sign up for FREE and discover over 728 private label rights products and resale rights products you can use as giveaways or sell and retain 100% of the profits.
The greatest thing about the PLR membership platform is that it is updated with new products every week.
RRW also offers a ton of tools and business plans.
Here are some of the features that make Resell Rights Weekly a go-to membership platform for online business owners and internet marketers.
Top Features of Resell Rights Weekly 
Free membership access to private label and resell rights products.

Special instant access to over 728 hot selling private label rights and resale rights products you can sell and keep 100% of the money.

Instant access to Resell Rights Weekly resource toolbox with over 330 free internet marketing tools.

Special instant access to RRW Members Forum.

Instant access to 10,740+ Private Label Rights Articles around 320 different niches.   
Resell Rights Weekly Pricing
You can join Resell Rights Weekly for free or purchase their Gold membership at $19.95/mon. You can also pay $300 and use their PLR products as long as you intend to.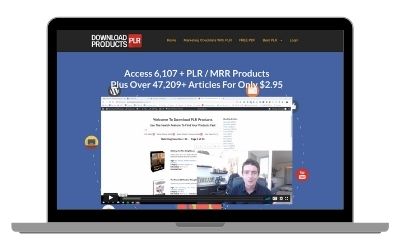 Download PLR Products is also another huge membership platform with over 6,107 PLR/MRR products.
The PLR site was founded in 2011 and is usually updated with more than 30 new PLR products each week.
There are also over 49,168 articles available for download for only $2.95.
Top Features of DownloadPLRProducts 
Over 5,157 high-quality products with PLR/MRR including videos, software, plugins, graphics, etc.

OVER 49,168 PLR articles.

3,000 products with a sales page.

Over 13 hours of video-based tutorials on affiliate marketing, automation in marketing, etc.

A ton of WordPress products including scripts, themes, etc.
DownloadPLRProducts Pricing
The membership site offers a paid membership of $2.95 for one week then you start paying $16.95/per month after the seven days
It offers the paid membership for $2.95, which remains valid for up to seven days.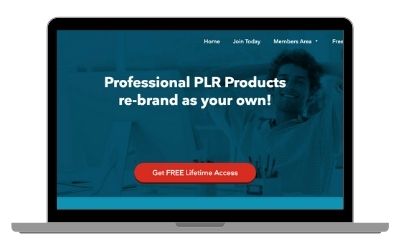 PLR Assassin is one of the best IDPLR alternatives for affiliate marketers.
The PLR membership site was founded in 2010 and is currently offering over 12,057 PLR products including videos, eBooks, software, graphics, and many others with private label rights, master resell rights, and personal rights.
Most of the products added to the platform are high-quality as they are submitted by industry experts and marketing pros.
When you join their VIP membership, you can re-brand and resell their products as your own and take 100% of the money.
New articles are added to the platform regularly and the old ones are taken down.
Top Features of PLR Assassin
Over 4903 professionally-written eBooks, you can edit, rewrite, and resell or give them away to your subscribers.

Over 3590 unique videos.

Unmatched customer support.

Fresh content is updated regularly.

High-quality products submitted by industry experts and marketing professionals.
PLR Assassin Pricing
PLR Assassin has a free and paid membership plan.
The free membership plan offers over 100 basic eBooks and articles whereas their VIP plan offers over 12,000 products and many other benefits all for $19/mo.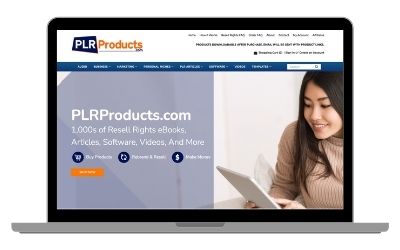 PLRProducts.com offers thousands of Private Label Rights & Master Resale Rights Products including videos, templates, professional articles, audio, eBooks, software, etc. that you can buy, rebrand, and resell to make money online.
The PLR products are in different niches like marketing, business, personal, etc.
The good thing about this IDPLR alternative website is that it is updated with hundreds of new products each month.
You can use their Search box or the Category box to find products easily.
Top Features PLRProducts
Affordable high-quality products

Products are created based on customer requests.

Thousands of resell rights articles, eBooks, videos, software, and much more.

Hundreds of new products are added to the platform each month.

Different payment options to choose from include PayPal, Bitcoin through BitPay.com, and Credit Cards.

24/7 customer support.
PLRProducts Pricing
Unlike other PLR membership sites, PLRProducts.com doesn't offer free or paid membership plans. The platform only offers a pay-as-you-go plan so you pay and download the products you want.
The average cost for downloading PLR products on this platform ranges from $2.99 to $24.99.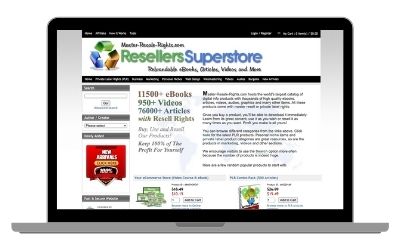 Master-Resale-Rights.com offers a huge collection of digital products that come with master resell or private label rights.
Currently, there are over 11,500 eBooks, more than 950 videos, and over 76,000 articles you can buy, use or resell and keep 100% of the money for yourself.
To find products easily, you can use the Search option.
The PLR products are also available in different topics such as web design, business, personal, marketing, etc.
Top Features
High-quality eBooks, articles, videos, and many other products with master resell or private label rights.

Products are available in different niches like business, marketing, and personal.
 Master-Resale-Rights Pricing
You can buy different products at different prices on this PLR membership website.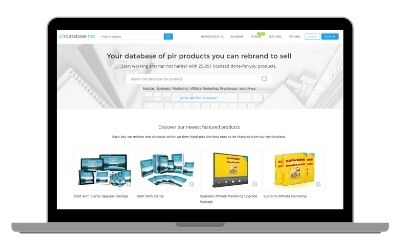 Are you a blogger looking for high-quality articles to publish on your blog? Or are you an internet marketer looking for high-quality products to sell and make money online.
Whether you're an affiliate marketer looking to promote your offers or create your online course or physical products or you're a YouTuber looking for PLR video content to upload to your own YouTube channel, PLRdatabase is the best IDPLR alternative for you.
The PLR database offers over 25,463 products you can use or resell and keep 100% of the money.
All the products available on this membership website are 100% legally licensed so you can rebrand, resell, or use them to learn new skills.
Besides, you can sign up for free.
Currently, the following PLR products are available on the PLR marketplace:
11,663 eBooks 

1,647 article bundles 

2,201 graphics 

1,821 audios 

3,089 videos 

656 WordPress plugins 

1,270 Software products

4,464 websites 

4,177 packages 
PLR Database Top Features
The PLR Database's Marketplace

Free Learning Academy

Public Profile and Activity Feed

Personal Inbox

PLR and IM Forum
PLR Database Pricing
You can join plrdatabase.net for free but to get the full experience of the PLR membership site, you need their Premium Plan for $10 per user per month, Premium+ for $25 per user per month, or purchase their Premium ++ for $49 per user per month.
All plans come with a 7-day money-back guarantee.
Best IDPLR Alternatives: Final Thoughts
So there you have it. If you were looking for the best PLR membership sites like IDPLR, I hope this article helps you.
Note that like IDPLR, all these PLR websites let you rebrand, use, or resell their PLR products as your own and keep 100% of the money.
Now, pick a membership website, purchase their products, rebrand them, and sell to your target customers then come and share your experience in the comment section.
Good luck!