Are you a YouTuber, Vlogger, or do you use YouTube marketing to promote your brand to the masses? If so then we've got good news for you here. But before that…
The bad news: Managing a YouTube channel is no easy task. It's time-consuming; it requires a lot of effort and technical skills to optimize videos for YouTube search and grow your channel.
The good news: There is a tool that can take the burden out of your shoulders and simplify the whole process.
In this article, I'm going to introduce to you a powerful tool that helps to make your YouTube channel management simple.
It's called TubeBuddy.
In this review, we're going to learn what is TubeBuddy, how it works, it's features, and it's pricing. We'll also share the pros and cons of TubeBuddy, and provide answers to common questions asked by users about the tool.
So without further ado, let's dive right inside.
What Is TubeBuddy?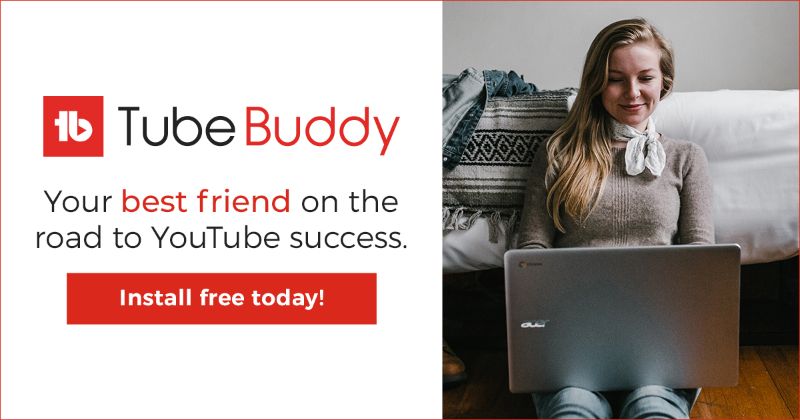 TubeBuddy is an all-in-one YouTube channel management and video optimization tool that integrates into the YouTube website as a browser extension to help you manage, optimize, and grow your channel.
The tool comes with an array of excellent features that helps video creators save time while making profitable and engaging videos.
Once you install the browser extension cum plugin, you'll see all its features embedded in your YouTube dashboard.
TubeBuddy is currently supported on Firefox, Google Chrome, and Edge.
How Does TubeBuddy Work? 
TubeBuddy is a FREE browser extension you install onto your web browser.
Once installed, the tool embeds a menu inside the YouTube dashboard where you can access its array of features to manage your channel and optimize your videos for search.
Generally, TubeBuddy offers added functionality to the tools YouTube offers to video creators.
For instance, the Keyword Explore feature lets you conduct keyword research for your videos so you can optimize them increase their visibility in search.
TubeBuddy Features
Once installed onto your internet browser, TubeBuddy reads your channel data and offers you a ton of tools that help to manage your channel with ease.
Remember that TubeBuddy offers different pricing plans. Depending on the package you purchase, you might not be able to access some of the features.
Below are some of the powerful features you'll get on all TubeBuddy packages.
Keyword Explorer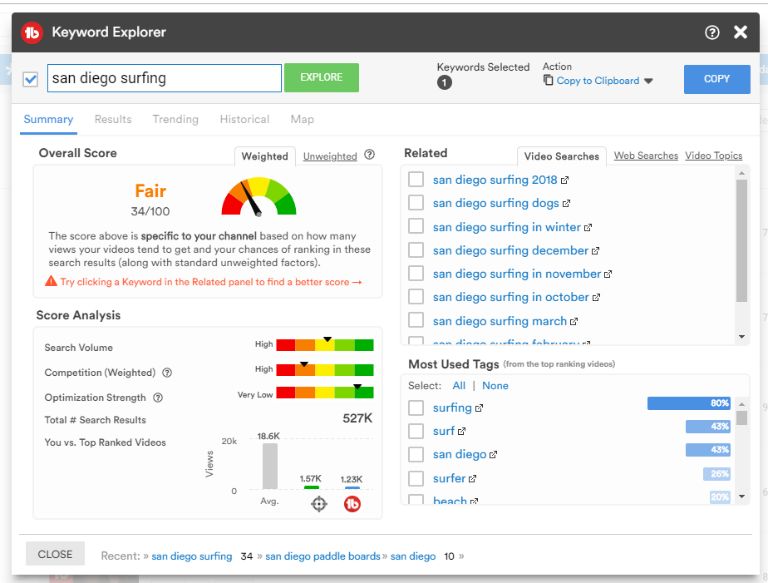 YouTube is a social media website and search engine where people turn to when looking for information that can help solve their problems.
Keyword Explorer lets you find the terms or keywords people enter on YouTube when searching for videos so you can optimize your videos to get them ranked higher in search results and attract more views.
You just need to enter your target keywords and the tool will find long-tail keywords and trending Tags to optimize your videos for SEO.
Search Explorer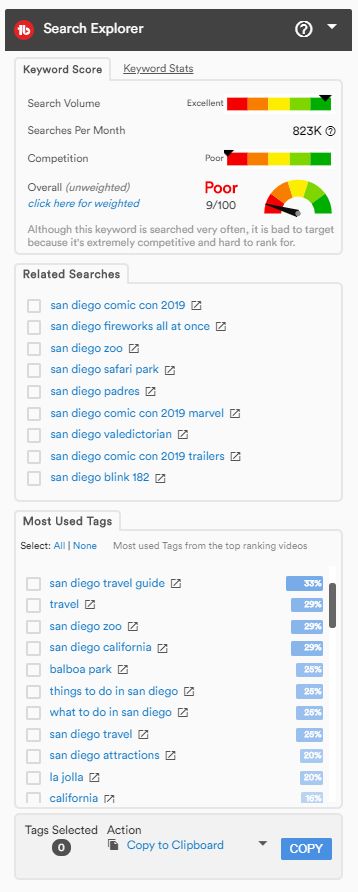 Search Explorer helps you research search terms based on search volume, competition, and overall score.
With this tool, you will get to know how many times your target keywords have been searched on YouTube. You will know the level of competition your main keywords command so you can make an informed decision on keyword usage on your videos.
Thumbnail Generator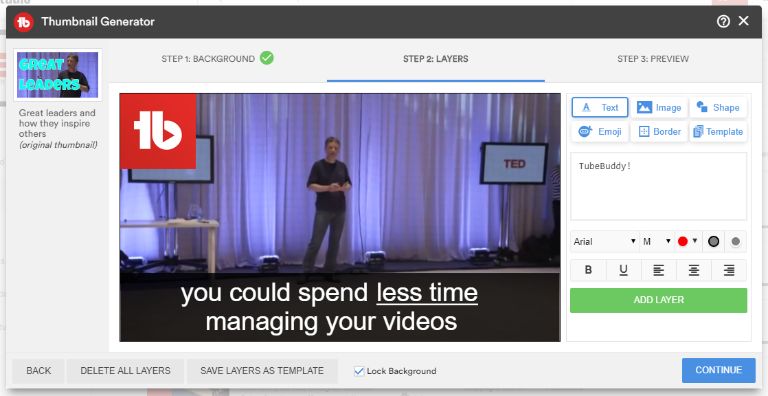 Creating eye-catchy thumbnails is no easy task. Some people use Photoshop while others take screenshots to make attractive thumbnails for their videos.
TubeBuddy's Thumbnail Generator lets you use already built Templates to create professional-quality thumbnails in a record time.
Insta-Suggest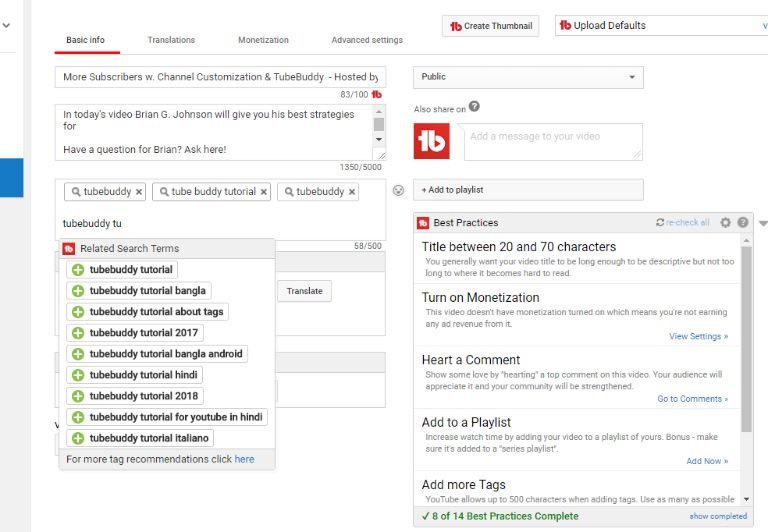 Insta-Suggest is also one of the best video SEO tools on TubeBuddy that lets you see tags that match what people are searching for on YouTube in real-time.
This feature also shows the score of each tag so you can tell the effectiveness of the tags you're using on your videos.
Search Rank Tracking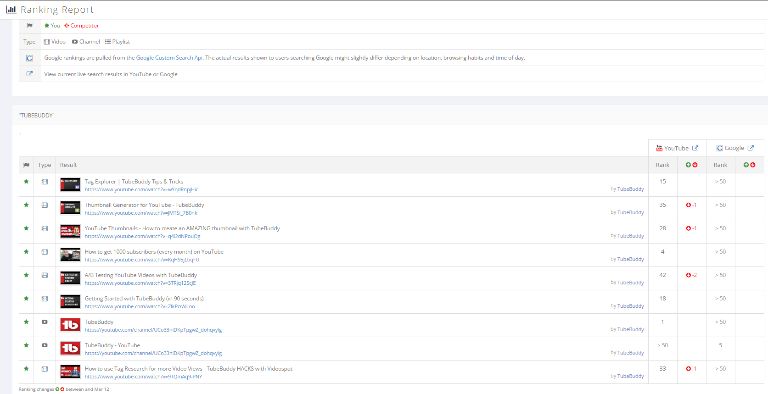 After optimizing your videos for YouTube search, you want to see whether your efforts are bringing any results or not.
Search Rank Tracking lets you see where your videos appear across Google and YouTube compared to your competitors based on the keywords you target your audience with.
Best Practice Audit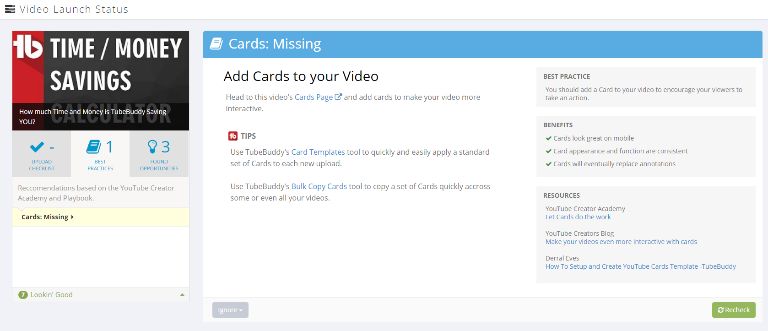 YouTube can delete your videos and channel at any time if you fail to comply with their guidelines.
As a rule, you're required to ensure your video is published as stated on the YouTube guidelines and there are no missing links in your descriptions.
The Best Practice Audit performs automated checks on your channel to ensure all videos are set up as recommended.
Publish To Facebook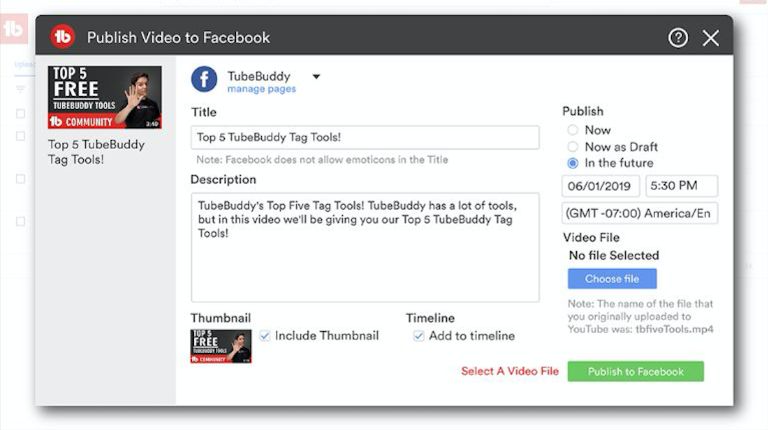 Facebook has over 2.74 monthly active users, making it the largest social media platform.
Publish To Facebook lets you cross-promote your videos natively to Facebook in a record time.
This helps to expose your video to the billions of users the social network has.
Best Time To Publish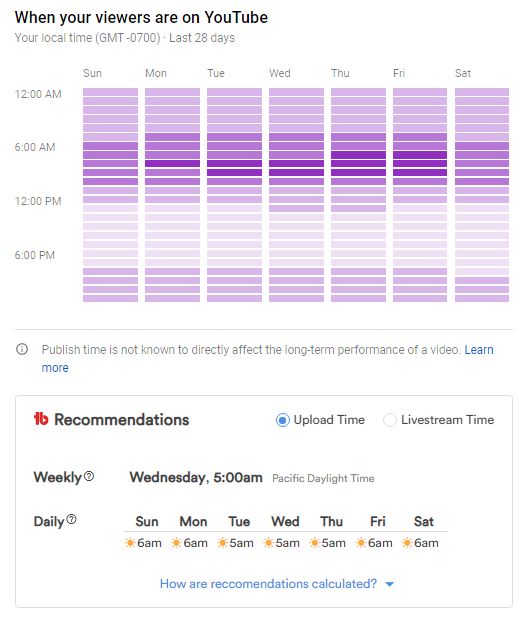 Even though YouTube is one of the best for sharing helpful videos, you will not see any success just by filling your company's channel with videos.
You need to know the best time to upload videos.
TubeBuddy takes out the guesswork and helps you identify when your viewers are most active so you can publish videos or share your Livestream.
Auto Translator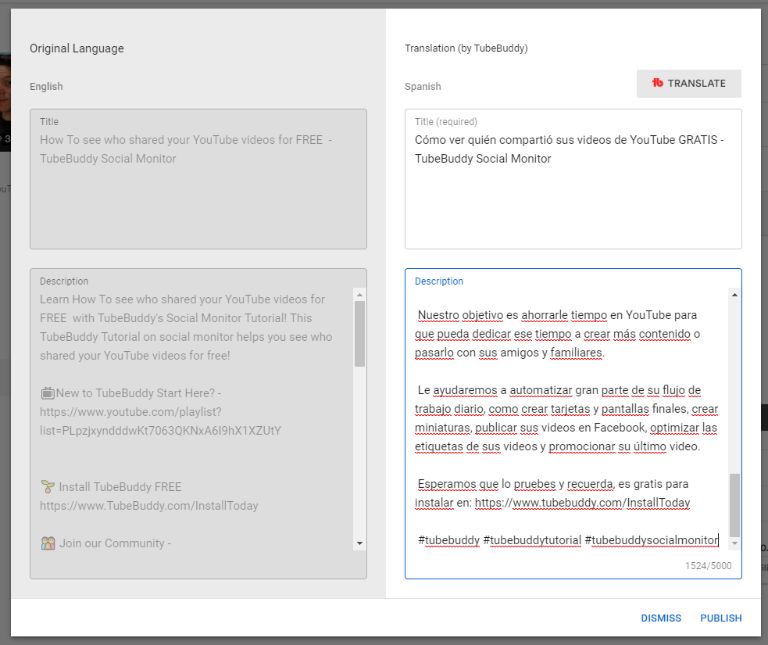 TubeBuddy also offers automatic translation services for video titles, descriptions, tags, and more.
This helps to ensure your videos can be viewed by people no matter their language across the world.
This tool is especially important for video creators who wish to record videos in different languages.
These are just a few of the features TubeBuddy offers. Click here to discover more tools.
TubeBuddy Pricing
TubeBuddy offers three different paid tiers and one free plan.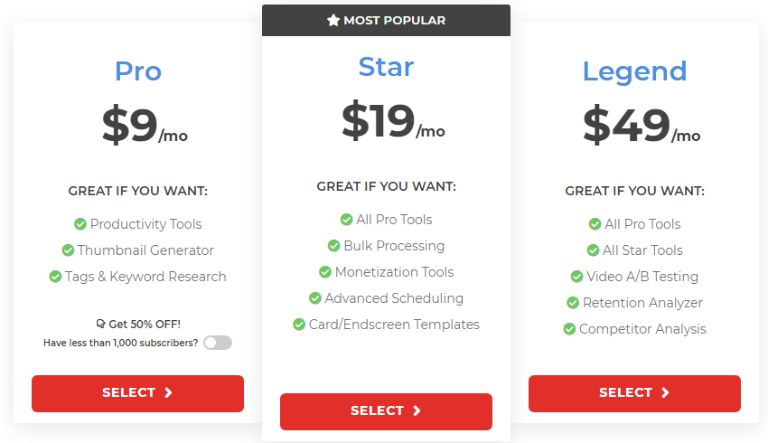 As stated above, some TubeBuddy features are available on certain plans only.
When starting your YouTube channel, you can take advantage of TubeBuddy free version.
Note that many TubeBuddy features are restricted so you're less likely to accomplish your goals with this plan. For instance, the free plan doesn't let users publish YouTube videos directly to Facebook natively.
However, it will help you understand how the tool works before you upgrade to their paid packages.
TubeBuddy paid packages are as follows:
Pro package: Available for $9/mo. You get a 50% discount if your channel has less than 1,000 subscribers.
Star package: Available for $19/mo. You get access to all Pro tools, bulk processing, advanced scheduling, monetization tools, and Card and End screen Templates.
Legend package: Available for $49/mo. This package gives you access to all Pro tools, Star tools, competitor analysis functionality, video A/B testing feature, and retention analyzer tool.
501(c)(3) Non-profits are given a Special Discount whereas users with more than 20 channels can use the Enterprise plan.
TubeBuddy Review: FAQ
Let's find answers to some of the most frequently asked questions about TubeBuddy.
How good is TubeBuddy
TubeBuddy is not only a good tool but is also useful if you're looking to manage and optimize your YouTube channel.
The tool saves time and simplifies the process of creating videos, optimizing them for YouTube search, and promoting them thanks to its array of tools.
Can you trust TubeBuddy?
TubeBuddy is YouTube certified web browser extension trusted by millions of YouTube creators and brands. Besides, since it was created, there are no complaints reported about its security. So, yes, you can trust TubeBuddy.
How do I get more views on TubeBuddy?
To get more views on YouTube with TubeBuddy, you need to take advantage of the video SEO tools to optimize your videos to increase their rankings in the search results.
Once you optimize your videos for YouTube search, many people will discover them hence attracting new subscribers to your videos.
How can I get free TubeBuddy?
TubeBuddy is a free YouTube management and optimization tool. You can also try their paid plans for free for 30 days.
This is because their free plan doesn't offer powerful tools you can rely on to grow your YouTube channel.
Click here to install the TubeBuddy extension for FREE
What is the TubeBuddy SEO score?
When you install the TubeBuddy extension onto your browser, it adds a sidebar to the YouTube dashboard with extra keyword data.
The Search Explorer shows data for search volume, level of competition of certain keywords in an overall score out of 100.
How much does TubeBuddy cost?
TubeBuddy is a fermium browser extension with three paid packages and one free plan.
The free plan has some limited features but you can upgrade to their paid packages for advanced features and functionality.
Is TubeBuddy safe?
TubeBuddy is YouTube certified and 100% safe to use for both beginners and experienced YouTube creators. In fact, according to the official website, it is loved by 3 million YouTube creators and brands.
Besides, it's also easy to install and use.
How do I get TubeBuddy?
You can get TubeBuddy by installing their free extension to your web browser (Chrome, Firefox, or Edge) or mobile app via their official website here www.tubebuddy.com
How do I activate TubeBuddy?
To activate TubeBuddy, follow the steps below:
Visit the

TubeBuddy website

and click the "Install Free Now" button.
You will be redirected to the Chrome web store and then click the "Add to Chrome" button. You will be prompted to add the TubeBuddy extension or cancel. Click "Add extension" and allow it to download.
Once the download is complete, the extension will be added to your browser and you will see a small TubeBuddy icon at the top right-hand side of YouTube.
Click on the small icon to sign in to your YouTube channel.
Click the "Sign in with YouTube" so you can access TubeBuddy on the YouTube dashboard. You will also need to allow TubeBuddy to access your channel data.
That's how to activate the extension. You can now click the TubeBuddy icon to start using it.
TubeBuddy Pros and Cons
Here are the good and the bad sides of TubeBuddy.
Pros
It is a 100% YouTube certified browser extension.
100% free but you can upgrade to their paid plans to access more advanced features.
Offers 30-day trial version of their paid packages.
It lets you identify keywords and tags to target.
The competitor analysis feature lets you research the competition.
Simplifies YouTube creation and saves time.
Cons
It is only supported by three browsers- Chrome, Firefox, and Edge.
You have to upgrade to their paid plans to access more advanced and useful features.
TubeBuddy Review: The Final Verdict
As you can see, TubeBuddy is no doubt the most popular YouTube tool on the market today.
The tool packs useful features that let you manage and grow your YouTube channel with minimal effort.
It's also useful for beginners and experts alike.
Install TubeBuddy onto your browser and simplify your YouTube creation process now.