Do you want to learn how to make money with JvZoo using the Launch Jacking Strategy?
If so then this article is for you. 
But before I show you how you can earn passive income online with JvZoo, let me tell you one thing.
Making money online is not an easy thing. If it were that easy, everyone would be doing it.
But don't worry because you can learn the ropes and become a six or seven-figure affiliate marketer like Pat Flynn, Neil Patel, and others.
So without much ado, let's get into the nitty-gritty of how to make money with JvZoo.
What Is JVZoo Marketplace? 
Before we learn about the JvZoo marketplace, I should let you know that the affiliate network focuses hugely on digital products.
So, if you're looking to promote physical products then this article isn't for you.
But if you're interested in promoting software products like online courses, digital services, and much more then keep reading to learn more.
I think there is a reason why JvZoo focuses on digital products.
First, digital products are lucrative- and given that people are looking for software products to learn how to do things or make life easier, the demand for digital products is huge.
Of course, the competition for this niche is also insane. But if you learn how to market these products the right way, you can reap big money.
With that, let's get an in-depth look into the JvZoo marketplace.
The JvZoo Marketplace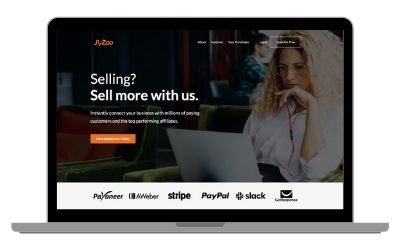 Generally, the JvZoo marketplace is both an affiliate network and product selling platform where affiliates can join, choose products, and promote them to earn affiliate commissions.
Sellers can make money by availing their products to be promoted by affiliates, and affiliate marketers can earn instant affiliate commissions by promoting their desired products.
It's a platform that offers a win-win situation for vendors and affiliates.
As stated earlier, the affiliate program focuses on digital products- specifically software products.
Currently, the JvZoo marketplace has over 200 niches- some are popular while others are unpopular. Examples of niches in the marketplace include Finance, eCommerce, Health & Fitness, etc.
If you want to make big money, I would advise you to choose and promote products around the most popular niches in the marketplace. 
I'd also advise you to check the best-sellers list to know which products are generating good money.
The good thing about JvZoo is that they pay instant commissions to their affiliate.
Sounds good?
Let's find out how things work on JvZoo for affiliates.
How Does The JVZoo Affiliate Work? 
As stated earlier, JvZoo is a large affiliate network with many affiliate programs.
Its workings are similar to ClickBank, ShareASale, Commission Junction, etc.
The marketplace connects sellers and affiliates.
So sellers submit their products or services and affiliates (freelancers, bloggers, internet marketers, etc.) promote them to earn commissions.
How the JvZoo affiliate works is simple.
First, you need to register your account as an affiliate. It's free and the process is easy.
Once your registration is approved, you need to pay attention to the upcoming product launches.
To get the most out of the platform, you should use the Launch Jacking Strategy (much on this later).
You need to stay updated on any upcoming product launches by checking on websites like MunchEye. 
It's also important to understand that getting accepted on JvZoo is one thing and making money on the platform is another.
Before you start promoting products, you need to reach out to product creators and ask them to allow you to review their products.
This is one of the trickiest parts.
Here, you need to convince the product creators that you have the potential to promote their products.
Once you get the products to promote, you can then choose your preferred promotion strategy.
Many affiliates prefer to use YouTube videos but you can also promote products on your website.
To get the most out of the platform, you should build a huge email list.
And as stated above, you need to learn how to choose the best products with the money potential.
How You Get Paid by JvZoo
JvZoo has an automated payment system for both sellers and affiliates.
Affiliate commissions are paid instantly. Once a sale is made on the products you promote, the commission is credited to your affiliate account.
JvZoo pays through PayPal, Check, Payoneer, or Direct deposit via JvZoo Pay.
However certain conditions may apply when it comes to payment. 
For instance, the seller decides what approval level to apply to an affiliate.
Often, new affiliates are placed on delayed payments for some time to establish trust and to ensure the affiliate is committed to promoting affiliate products.
Delayed payments are also applied to affiliates with no sales or who have fewer sales.
For trusted affiliates who have more sales payments are done instantly.
The seller can choose to deny payments, especially for affiliates who are not trustworthy.
Easy Way to Get Started With JvZoo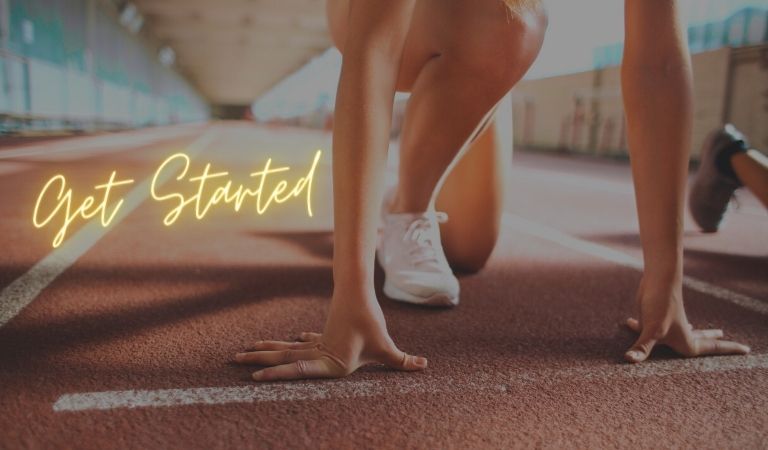 To get started with JvZoo, you need to register an account for free.
Just head over to JvZoo.com and follow a simple step-by-step process to create an affiliate account as shown in the image below.
You will be required to enter your full legal name, email address, and password (ensure you set a hard-to-guess one) and confirm it.
You will also need to verify your email by checking the link sent to your inbox.
Once you've verified your email, follow the steps below:
Fill in your W-9 form- for US affiliates.

Link your PayPal account.

Start browsing products in the JvZoo Public Marketplace.

You can also read their

Knowledge Base

articles to learn how the platform works.
The good thing about JvZoo is that you can reach out to product creators and ask them for a review of their products.
And this is where you can use the Launch Jacking Strategy (I'll take about it in a moment)
What Is Launch Jacking?
Thousands of products are launched and released on different marketplaces online every day.
When these products are launched, many people flock to Google or YouTube to search and learn more about them before investing their money.
Launch jacking is when you take advantage of these product launches by creating reviews around them so you can take advantage of the influx of traffic.
As the affiliate, you need to convince the product creators that you can help promote their offer and then write great reviews around their products before everyone else has done it.
And because the product is new, the competition is also not insane thus your reviews can attract more people who are looking to learn more about the unreleased product.
Note that if the product is yet to be launched, and Google has no data around it- there are no keywords about the to-be-launched product.
That means that people are going to search by product name by entering the name with words like "review", "reviews", "buying guide", "scam", "bonus", "genuine", etc.
So, you need to target these keywords in your content.
The good thing about targeting such keywords is that when your content is indexed on Google, the odds of getting better rankings are high.
You also need to optimize your product reviews for SEO using low competition keywords by keyword research tools like Kwfinder or Semrush to drive organic traffic as well- assuming the product is launched and Google, Bing, and other search engines have data around it.
How Does Launch Jacking Work?
As stated above, launch jacking is when you become the first person to review a product before it is released on the market.
How launch jacking works is simple.
Once you get a review copy of the to-be-launched product, you can either check to see whether other people have reviewed it on YouTube or not.
When you find other reviews of the product, you simply need to write them in a better way.
You can also buy the product and test it then write a compelling review around it.
Is Launch Jacking Profitable?
The profitability of launch jacking depends on the position your content ranks in SERPs.
Of course, you can use your email list to promote affiliate products. But some people will prefer to search on Google.
That means that if your content is nowhere to be seen within the top 10 results then you're going to struggle to drive quality traffic to the products you promote.
It will also be difficult to generate sales.
One trick I normally use to get better Google rankings for my articles (and one that's shared by professional content marketers) is to learn from the content that's already ranking well.
Brian Dean of Backlinko has shared a useful guide around Google rankings factors you can read to learn how to rank your content better.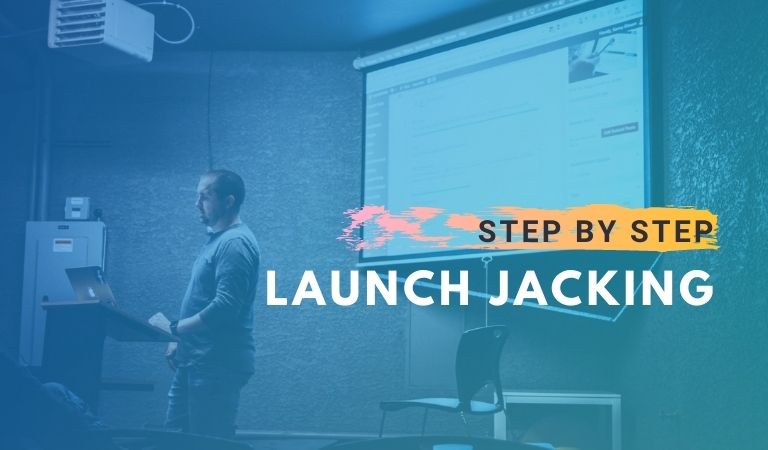 Launch Jacking – Step-By-Step Guide
Having known what launch jacking is and how it works, let's learn how to get started step by step.
Step 1: Create an account on JvZoo
To get started with launch jacking, you need to create an affiliate account on JvZoo.
I outlined the steps above but you can head over to JvZoo.com and register for a free account.
Step 2: Finding Product Launches
Finding product launches is an important step.
Generally, you want to find products that have money potential and good demand.
You can choose any product based on your desired niche.
As a beginner affiliate, I'd recommend you choose products with a higher commission percentage or subscription-based products.
In my research, I found software and information courses to be the best products to focus on if you're just getting started on JvZoo.
These products have higher affiliate commissions.
Step 3: Applying To Get Approved & Ask for a review copy
To apply to get approved and ask for a review copy, I recommend using MunchEye for your launch jacking strategy. This internet marketing launch calendar lets you discover upcoming product launches before they are released to the market.
Here, you can get tons of just-launched and upcoming product launches for different affiliate platforms like ClickBank, JvZoo, and more.
I'd recommend you focus on product launches that are to happen 7 to 10 days from the time you start finding products to promote.
When you click on a product on MunchEye, you will be redirected to the official website where you'll be able to see how much it is priced, the commission you get, JV page, etc.
When you request the affiliate link, you will be taken to JvZoo, ClickBank, and other affiliate networks.
Once you get a review copy, you can request the affiliate link and start promoting the product right away.
If you don't get a review copy and you are serious about that product, don't worry. You can buy the product, try it then write a review around it. Most of the products have a money-back guarantee. 
You have tons of products to choose from. So, you can skip to another product in case you fail to get a review copy for the one you're looking to promote.
Remember that it's usually harder to get approved if you're still new and have never made any sales on JvZoo.
But it's possible.
Just make sure you leave a convincing note for the seller when requesting to promote their product. In your note, explain how you intend to promote their product.
During the entire process, focus on building trust with the vendor so they can accept your request.
Once your request is approved and you have the affiliate links, it's time to get into the real thing: Creating content around the affiliate product.
Step 4: Creating & Uploading Content
Assuming that you have done some background checks to see whether the product is genuine and has money potential (through visiting the product site or buying and trying it), you can now start creating content around it.
You'd also want to target specific keywords in your review content that'd increase the odds of ranking better in search engines to increase the visibility of your product reviews.
…because people will search the product by name…
..you could target keywords with:
"Product name" reviews
"Product name" buying guide
"Product name" demo and buying guide
etc.
If you want to make passive income then you should have your own website. In this article, I'm assuming you're promoting your affiliate product on a review website.
So, first, let's create a review website by following the steps below:
Note: I'll cover this topic in detail in my next blog post but here is a short guide on how to create a review website.
Create A Website For Affiliate Marketing
Buy domain hosting
You'll first need to buy a domain and hosting. I'd recommend you use one of these most popular domain registrars to buy and host your domain name.
   Domain:
GoDaddy (One of the best domain registrars)

Namecheap (Cost-effective)
   Hosting:
Cloudways (Highly Recommended-Leader in Managed Hosting)

Bluehost (A great choice for beginners)

Hostgator (Reliable and customer-friendly hosting service)

Namecheap (Cost-effective domain and hosting services if you have a tight budget)
You can use your preferred registrar anyway because there are many of them out there.
Go for a shorter domain name that's easy to pronounce, remember, and spell. I'd also recommend domain names with .com.
Install WordPress
Most of the domain registrars I mentioned above offer a one-click WordPress installation.
Complete your website 
Install a good review theme, customize your website, create all the important pages such as About, Reviews, Disclaimer, etc., and launch your website.
Write review content and publish 
Once your website is live, start writing review content on your own or you can hire from Fiverr around the affiliate products you picked.
Remember to submit your website to Google Search Console and make sure to target important keywords.
Step 5: Promoting (For Early Engagement) 
Creating content around your affiliate products is one thing and making people know that your content is out there is another.
Ideally, you want to promote your content as soon as you create it for early engagement and to get better Google rankings before other people start doing it.
Fortunately, there are free methods to promote your content- and if you have the money, you can use paid methods.
Let's take a look at both methods of promoting your content.
Free content promotion methods
How to promote content on Facebook
Facebook is the largest social media platform with 2.60 billion users worldwide.
However, you need to learn how to make the most out of this platform to get early engagement on your affiliate content.
To use Facebook to promote your blog content effectively, use fascinating headlines, include eye-catchy images on your posts, and write irresistible copies.
Make sure you target the right audience for better engagement as well.
How to promote your content on Instagram
Instagram is the second-largest social media platform with insert stats here users worldwide, but to get the most out of it, you need to learn how to promote your content properly.
The best way to generate engagement on your content with Instagram is to use Instagram stories, connect with other affiliate bloggers, curate awesome images and videos, and invite other people to share your content.
How to promote your blog content on YouTube 
YouTube is yet another powerful free platform with 2 billion monthly users.
Here, you need to create videos around your topic and then include interesting video descriptions with links to your content.
You can also engage your subscribers by replying to their comments.
How to promote your review content on Quora 
Last but not least free method of promoting your content is by use of Quora.
You can use this question-answer site to drive traffic by creating a strong profile then finding popular questions within your niche then providing excellent answers to those questions including a link to your content.
Paid content promotion methods
This is where you're going to spend money on either boosting your content with Google ads, Facebook ads, or using email service providers.
Below, I'll talk about a few paid methods briefly.
Email marketing
Email marketing is one of the best, paid methods of promoting your content. But you need to know how to do it.
First, you need to collect emails on your blog using an opt-in form. I'm assuming you're using your favorite email service provider as there are many out there (GetResponse, Aweber, ConvertKit, MailChimp, etc.).
Email marketing is such a huge topic I cannot cover everything for now but you can read this article for more info.
PPC campaign 
You can also promote your published content by launching a PPC campaign where you write compelling PPC ads with a clear call to action so readers can know what to do after reading the ads.
You also need to include your target keywords inside your copy and focus on building a community around your content.
Display and retargeting
You can also promote your affiliate products using display or retargeting methods. This involves targeting visitors who show interest in the products you promote by adding cookies on your site so that when they come back again, you can know how to target them.
How To Use Paid Ads For Launch Jacking
Another way to drive traffic to your review website is by using paid ads for launch jacking. Here, you're restricted to using YouTube ads, Google ads, and Bing ads.
This method works similarly to how you target website visitors with specific keywords.
Generally, your ads will include keywords that when people search on Google, YouTube, or Bing, ads show up.
Paid ads can help to boost your product reviews as well.
How Much Money Can You Make From Launch Jacking?
Launch jacking is a quick method of making money with JvZoo; however, the money you get from organic traffic is more than you can make with this strategy.
In other words, launch jacking doesn't have huge money potential as you could get with organic traffic.
But if you're looking to earn quick affiliate commissions, this would make the best strategy for your affiliate business.
Will You Always Rank?
Whether you will rank or not with launch jacking will depend on the competition.
For instance, if there are bid product launches with too many competitors that have been in the business for longer then it will be hard to rank.
But as you continue doing launch jacking, you increase the odds of ranking. And when you rank for some of the launches you do, you increase the chances of making affiliate commissions.
In a nutshell, to rank with launch jacking, you need to have a powerful strategy.
Tips For Launch Jacking
Below are some practical tips to help you with your launch jacking strategy.
Bribe your visitors with some bonuses 
You can create some bonuses around the affiliate products to bribe your visitors so you can increase your earning potential.
Remember that not everyone will give bonuses to their email subscribers or readers of their reviews.
You can create bonuses like eBooks, mini-courses, etc., and give them out for free to your readers. 
See what the competition is doing
…and do better than them.
Chances are that some people are already writing product reviews around the product you have picked.
You can check how they are doing it then do it better by offering bonuses and writing better headlines to attract more readers to your reviews.
Do multiple launches as you can
As stated above, it might not be easy to rank with your first launches but as you continue doing big launches, you increase the odds of ranking.
For that reason, launch consistently and along the way, you will start to generate money with launch jacking.
Final Thoughts
Launch jacking is a great way to make money online with JvZoo.
But to get the most out of the marketplace, you need to find profitable products with good demand.
You also need to make sure the products are genuine and high-quality products. Don't be afraid of spying on your competitors as well.
FAQs
Affiliate marketing is undoubtedly one of the excellent ways to make money online- but when done right.
Here are a few frequently asked questions about how to make money with JvZoo using launch jacking.
What is the best affiliate network?
There are many affiliate networks out there but having used JvZoo, I'd recommend it to any affiliate- new or experienced.
ClickBank, ShareASale, and Commission Junction are also worthy affiliate networks as well.
How can you increase your rankings with launch jacking?
Given how powerful the launch jacking is, almost everyone is doing it- your competitors might be on the bandwagon.
So how do you rank?
You can increase your rankings by offering bonuses, checking on your competitors, and doing what they are doing better or doing multiple launches.
How do I join the JvZoo affiliate?
To become a JvZoo member, you will need to register for a free account, choose products to promote then start creating content around those products.