Out of hundreds of social media marketing automation tools; POSTOPLAN grabbed the critic's attention in the perspective of user's benefits, faster and reliable social media marketing automation tool.
If you want to do social media marketing, then you need to publish at least 2 to 3 posts every day to your social channels.
But the biggest problem is that posting at a certain time every day is really very difficult. And that's why I am using POSTOPLAN social media marketing tools for my social media marketing.
And this is why I am going to share my personal experience and review this software. This software will help you in many ways for automatic and social media schedule posting.
What is Postoplan?
POSTOPLAN is a smart automatic social network and messenger marketing platform that allows you to create, schedule, and promote content on social media platforms. This is an award-winning service that is trusted by 25,000+ specialists and companies from 147 countries.

This is an all-in-one platform where you can post to the Facebook Page, Facebook Group, Instagram, Twitter, Google Business Page, Linkedin, WhatsApp Group, Telegram Group, WordPress, and Slack. And the good thing is that you can schedule the posts and the post will publish automatically to your social channels.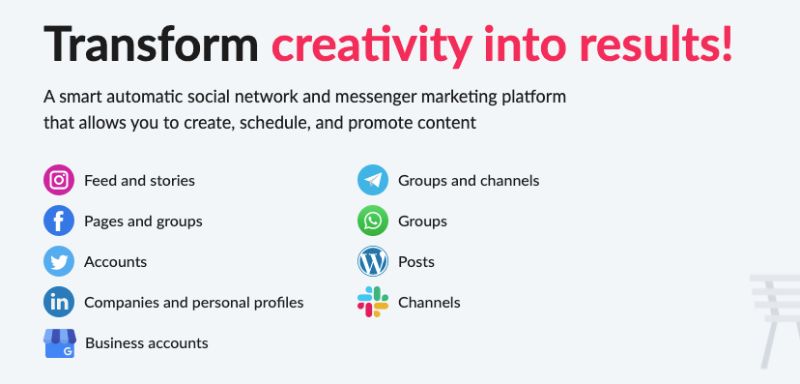 Check Out This Lifetime Deal →
Why Postoplan?
Do you have several pages on different social platforms? You know what, maintaining accounts on social networks brings in few clients. You make posts, but your number of subscribers increases only slightly and you don't gain clients.
If you regularly publish your content on social media you can increase your traffic and subscribers from social networks. And regular publishing is one of the key factors in social media marketing.
Eliminate stress: POSTOPLAN will notify you of the status of each scheduled post or message. No need to worry whether your post has been published or not.
Save time: Scheduled posting with POSTOPLAN facilitates a well-organized workflow to free up more of your precious time.
Automate your work: For example, set up a post about a promotion to be published every Friday. Our system will do the rest.
Create content easily: POSTOPLAN features samples and templates of scheduled posts and news hooks for every day. Content creation has never been so fast!
Check Out This Lifetime Deal →
Postoplan Features
The unlimited addition of frequently used hashtags
Unlimited communication with customers on Facebook
Unlimited response to Facebook comments
Facebook – pages and groups
Telegram – groups and channels
Twitter – accounts
Google – business accounts
Instagram – feed and stories
LinkedIn – company pages and personal profile
WhatsApp – groups
Configure the design of the interface
Slack and WordPress integration
Calendar with dates and holidays
Project user roles
More than 1 photo in a post
Opt-out of promotion mailings from partners
Ad-free interface
Postoplan Pros & Cons
I am using these tools myself and what I have noticed in these tools:
Pros
Here we can connect an unlimited social profile.
It has a built-in post design tool.
We can publish content from the RSS feed. Which is really a very powerful feature.
Repeated post feature, if we need to post regularly then these features really help us a lot.
Cons
We can't post on our Facebook profile. I know Facebook has so many restrictions for automatic posting but it's very important to post on our profile automatically. If possible please try to update it.
Customer Review

I have been using POSTOPLAN for nearly 5 months now after initially discovering it on ProductHunt, and I am so grateful that I did. Although it is fairly new and there have been some teething problems, the support team and developers are very quick to react to any issues, and they are fixed really promptly.
POSTOPLAN has made my social media planning a lot simpler due to the fact that I can pre-compose multiple posts and publish them to multiple channels. I immediately switched to the paid version so that I could schedule posts further in advance of 7 days, and also because the initial offer was very tempting.
There are also some nice touches like being able to change the interface theme between 10 different themes so that you can go darker (my personal favorite), lighter, or even more colorful. And there are daily suggestions for post content available if you want some extra inspiration.
All-in-all I am very impressed with POSTOPLAN. I have researched and trialed a lot of other services, but POSTOPLAN is the one that suits my requirements best and is also very fairly priced.

It is very important for my consulting business to have a reliable presence on the main social networks. Having a tool like POSTOPLAN has greatly simplified the process of managing my social networks.
With POSTOPLAN, I control and schedule all my posts. It allows me to manage my time and all my social networks using the same tool. This system allows me to schedule posts and respond to comments, measure statistics, and schedule my publications in advance. I was able to reduce the time that I spent on scheduling and analyzing data by more than 70%.
The menu is very convenient to work with, and the display of the posts in the calendar makes management and organization even easier. I am impressed with POSTOPLAN's versatility. The web interface is very powerful and user-friendly.
With POSTOPLAN, I have learned how to organize my posts by time and visualize my online activities in a calendar format. It feels like without POSTOPLAN I was living in the Stone Age, but now I have a huge advantage in digital marketing planning. I definitely recommend it.

I receive all the important notifications! It's a great tool to help me manage my time.
I can plan posts and no longer have to worry about them. I also have the opportunity to create them all in just a few hours and no longer have to think about them all week.
Another advantage is that I can synchronize all my social pages and manage them from one place, which is very important for me.
And I also really like the fact that this software has no annoying ads. POSTOPLAN is the social media management tool I've been long searching for. On the whole, I really like POSTOPLAN!
Conclusion
You've read the full details review and I think you understand if it will be good for you. Even then, if you ask me, I will tell you that if you think about the price, I like the service they are offering at this price.
With POSTOPLAN, your content is automatically published on a schedule and is seen by an increasing number of people. With regular posting, your reach will increase by 30-70%. For free.
For getting this limited-time deal click the "Buy Now" button below… 👇