Do you want to build an auction site? Or are you looking for a solution that can turn your existing website into an auction site?
If yes then you've come to the right place. You might think that building an auction site is a complex task. Well, once upon a time it used to be a complex task but not anymore.
Best Auction Plugin For WordPress
As you already know that WordPress is a comprehensive platform. And with the right WordPress Auction Plugin, you can easily build a fully functional auction site or make your existing WordPress ordinary site into an auction site that could turn into a money-making machine.
Whether you are planning to start large or small, the right plugin can help you to transform your plan into reality. But the problem is, there are so many WordPress Auction plugins available in the market, it is really difficult for someone to find out the perfect fit for their needs.
If you are also confused about which plugin to choose or you have no idea about the auction plugins but want to build an auction site, then this article is for you.
In this article, you are going to learn about the 5  best Auction Plugins for WordPress websites.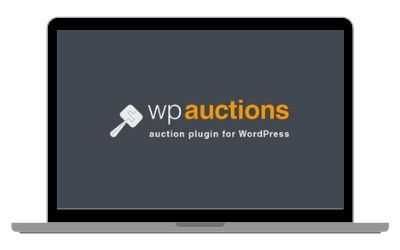 WP Auctions is one of the most trusted and popular WordPress auction plugins available in the market. Since 2008 they are solving the problem of online auctions by allowing you to create effortlessly, edit and manage as many auctions as you want.
In this long journey, they've earned the trust of more than ten thousand users. And these users use their service to auctions items worth millions of dollars.
In most of the auction platforms, the third-party cut off a percentage of every successful sale. Which is not good for your business.
With WP Auctions you'll get 100% profit into your pocket, no need to deal with these third parties.
And it comes with all the enhanced features that you'll need to run an auction site in a comprehensive way. There is almost no limit on which types of products you can auction on WP Auctions.
Whether it is cars or motorcycles or real estate, you can put them on auction and also will be able to allow people to bid on antiques or rare collectibles.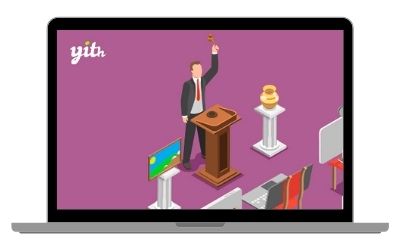 YITH WooCommerce Auctions is another powerful plugin that transforms your regular website into an auction site like eBay. Yes, now you can add eBay-type auctions to your personal website, isn't it awesome? YITH WooCommerce Auctions is a tool that adds to your site seamlessly and makes it a powerful auction site. That way you can give eBay fair competition.
With YITH WooCommerce Auctions you can easily set up auctions with your own items, you'll be able to allow your affiliate vendors to add products on your online auctions platform if they want.
And they'll pay you a percentage from their every successful sale, that way you'll earn extra.
It comes with a lot of beneficial features including some of the new features like His/her bid has been deleted, a bid has been removed, Ban users from bidding.
YITH WooCommerce Auctions also allows you to extend the capability of your auction platform by integrating with YITH Frontend Manager for WooCommerce and YITH WooCommerce Multi-Vendor.
3. WooCommerce Simple Auctions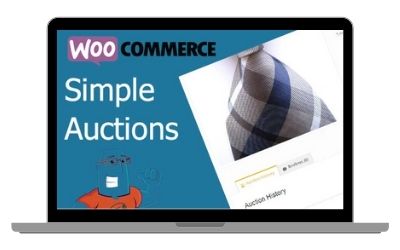 WooCommerce Simple Auctions is the most customizable and easy-to-use auction solution available in the market. If you want an auction site with full control over everything then this could be the perfect match for you. Because it allows you to customize your online auction house as you want.
WooCommerce Simple Auctions is an affordable auction solution for WordPress and WooCommerce. It let you create a professional Auction website, it even allows you to clone eBay with regular, proxy, reverse, and sealed (silent) auctions.
And you can do that for your normal products.
The setup process is simple and also, they have video tutorials so that you can set up without any hassle.
It's so simple that in less than 30 minutes you'll get a WordPress auctions website that is ready for bidding.
WooCommerce Simple Auctions comes with all the powerful features that are required to run an auction site including Plenty of shortcodes, Widgets with ending soon, future, latest, featured, recently viewed, my auctions and random auctions, Email Notifications.
It also comes with enhanced features out of the box.
4. WordPress Automatic Plugin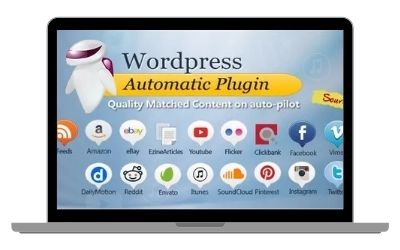 WordPress Automatic Plugin is yet another amazing auction plugin for WordPress websites. If you've created an auction for your product on eBay and now you want to make it on your own site then this could be the perfect match for you. Seems difficult right? Now, with WordPress Automatic Plugin you can do that too.
The installation process is super simple, you can do that in a matter of seconds. You may be wondering if there is a way to import a whole host of things from external websites like YouTube, social media, your blog, and of course eBay.
Yes, you can do that too. WordPress Automatic Plugin allows you to do that. You can do that by sign in to your eBay account once the installation process is completed.
Once signed in, you'll be able to link your eBay auctions to your own site on a preferred page.
Once linked, you are ready to go. When you are looking for any plugin, one of the most important aspects that you need to check, whether they provide updates for the plugin in real-time or not.
The WordPress Automatic Plugin is really good at updating its plugin.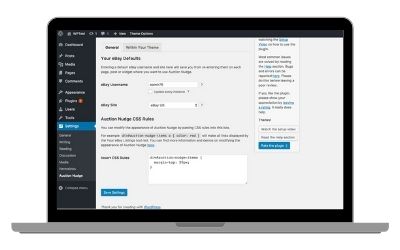 You may be wondering if there is a way to add even more items on your auction site more than your eBay items. The answer is YES. Auction Nudge is a WordPress auction plugin that allows you to do that. This is a very user-friendly plugin. So, it'll be very easy for you to operate the whole procedure.
Auction Nudge allows you to add your entire eBay profile on your own website in a very short period of time. So, if you already have a running eBay account that is popular then this plugin could be the best fit for your needs.
If you want to show your visitors that what you are currently selling on your eBay account, with Auction Nudge you can do that.
And you can also show your reviews as a seller which is an amazing feature for existing eBay sellers.
Auction Nudge would be the perfect solution for those who are existing sellers or want to switch to their personal websites.
Calculation
If you've read the article carefully then now you know which one would be the perfect match for you. Choose a plugin that fits perfectly with your needs. I hope that this article has helped you to find an auction plugin.
My personal recommendations – you can pick WooCommerce Simple Auctions or WordPress Automatic Plugin. I find those are best.